Find the right
depression
anxiety
ADHD
depression
anxiety
ADHD
medications based on your DNA
Feeling better starts with the right medication
Get Started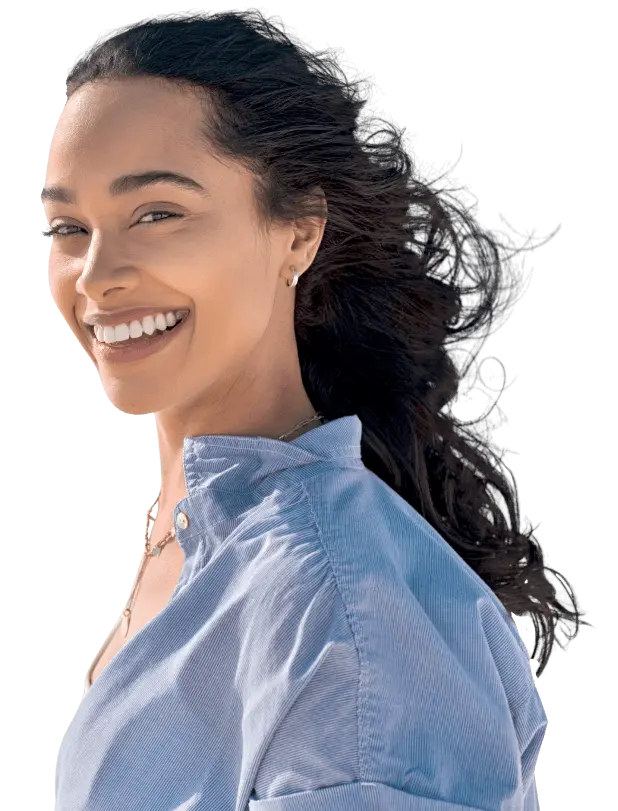 The Reality
We are all unique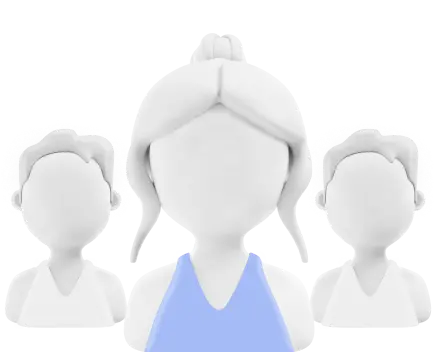 Medications work differently in everyone
You have genetic variants that impact how you metabolize medications. ClarityX® helps identify the best medications based on your unique DNA.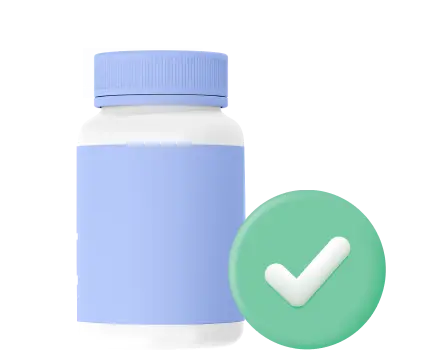 Clinical Guidance
The ClarityX® pharmacogenomic test incorporates the most up-to-date clinical research data, including evidence-based recommendations.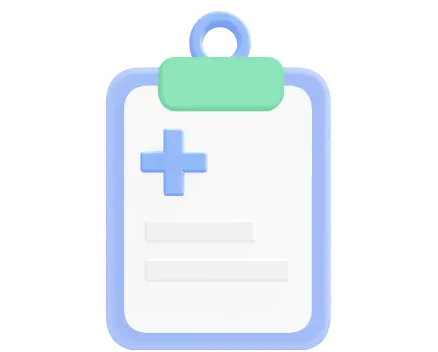 Medically Actionable
Find out which medications are right for you. Gain insights that you and your doctor can use to create a precise medication plan.
Why ClarityX®
Your personal medication roadmap
Analysis of your current medications
The ClarityX® test will provide you with a personalized analysis of your current medications
Your response to hundreds of FDA-approved medications
The ClarityX® test identifies and reports your response to over 265+ FDA-approved medications broken down into 31 therapeutic areas
Individualized medication dosing guidelines
ClarityX® incorporates the most up-to-date clinical research data from key scientific and governing organizations including Clinical Pharmacogenetics Implementation Consortium (CPIC) and the Federal Drug Administration (FDA).
Personalized risk management profile
ClarityX® identifies and reports specific gene mutations & risks associated with prescription medications including the MTHFR variant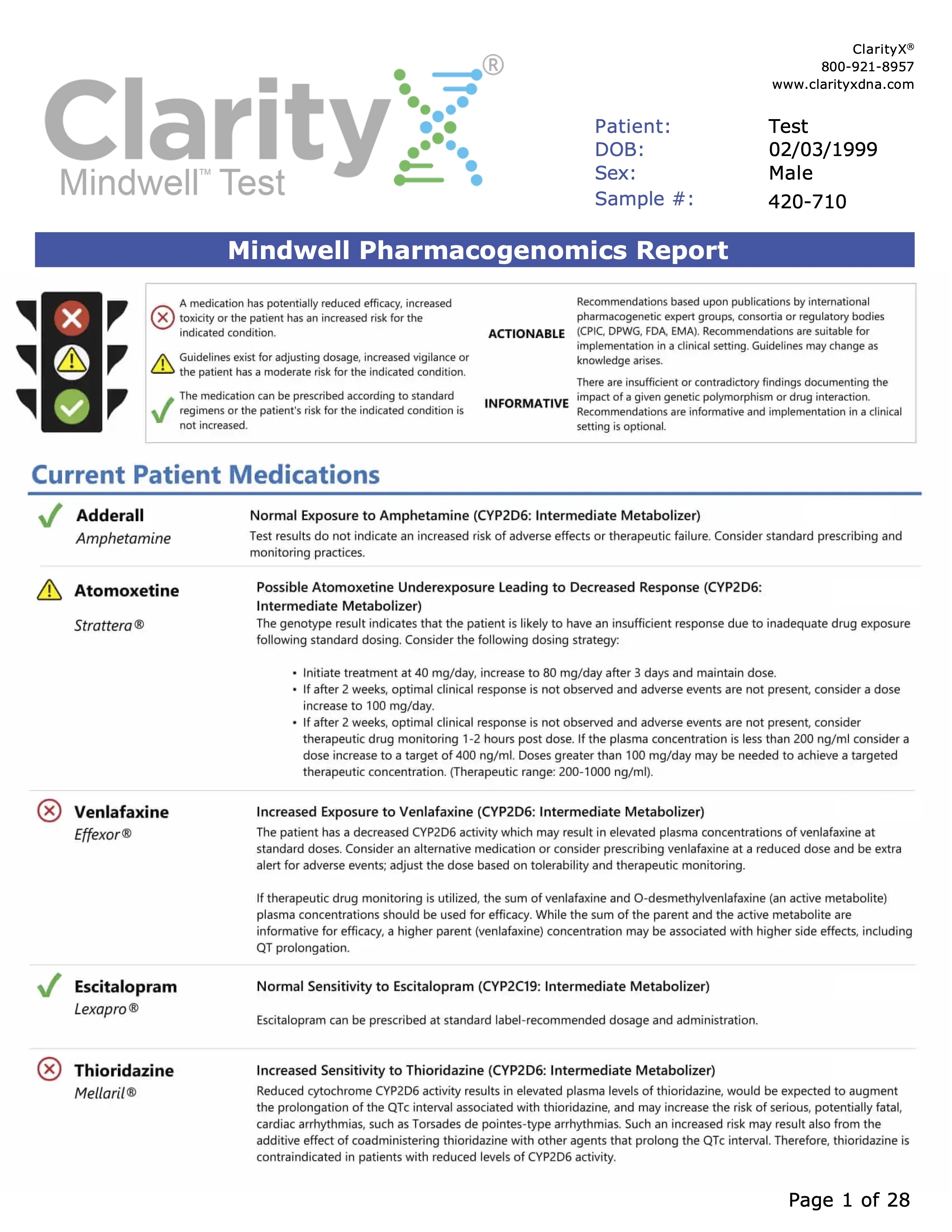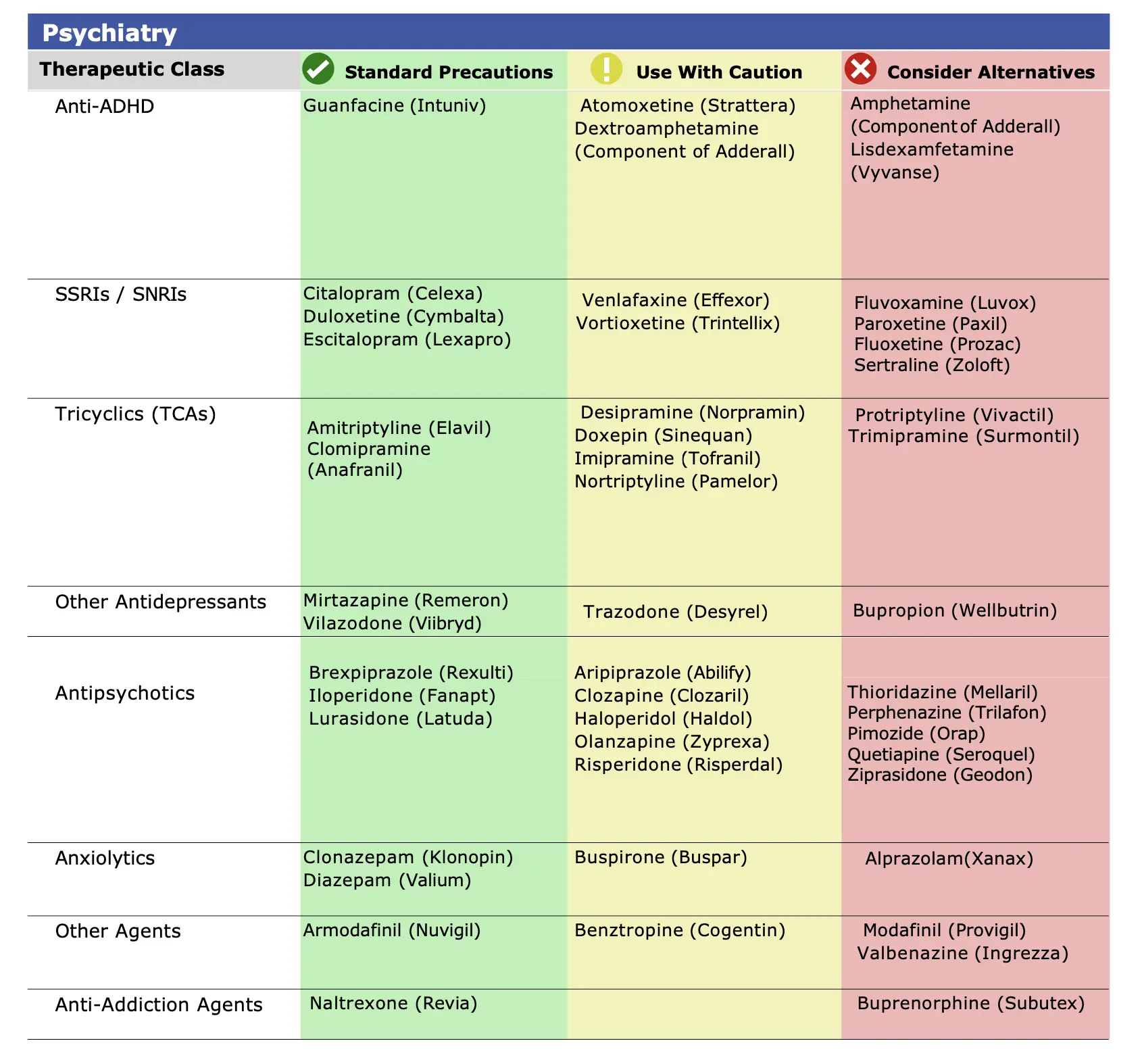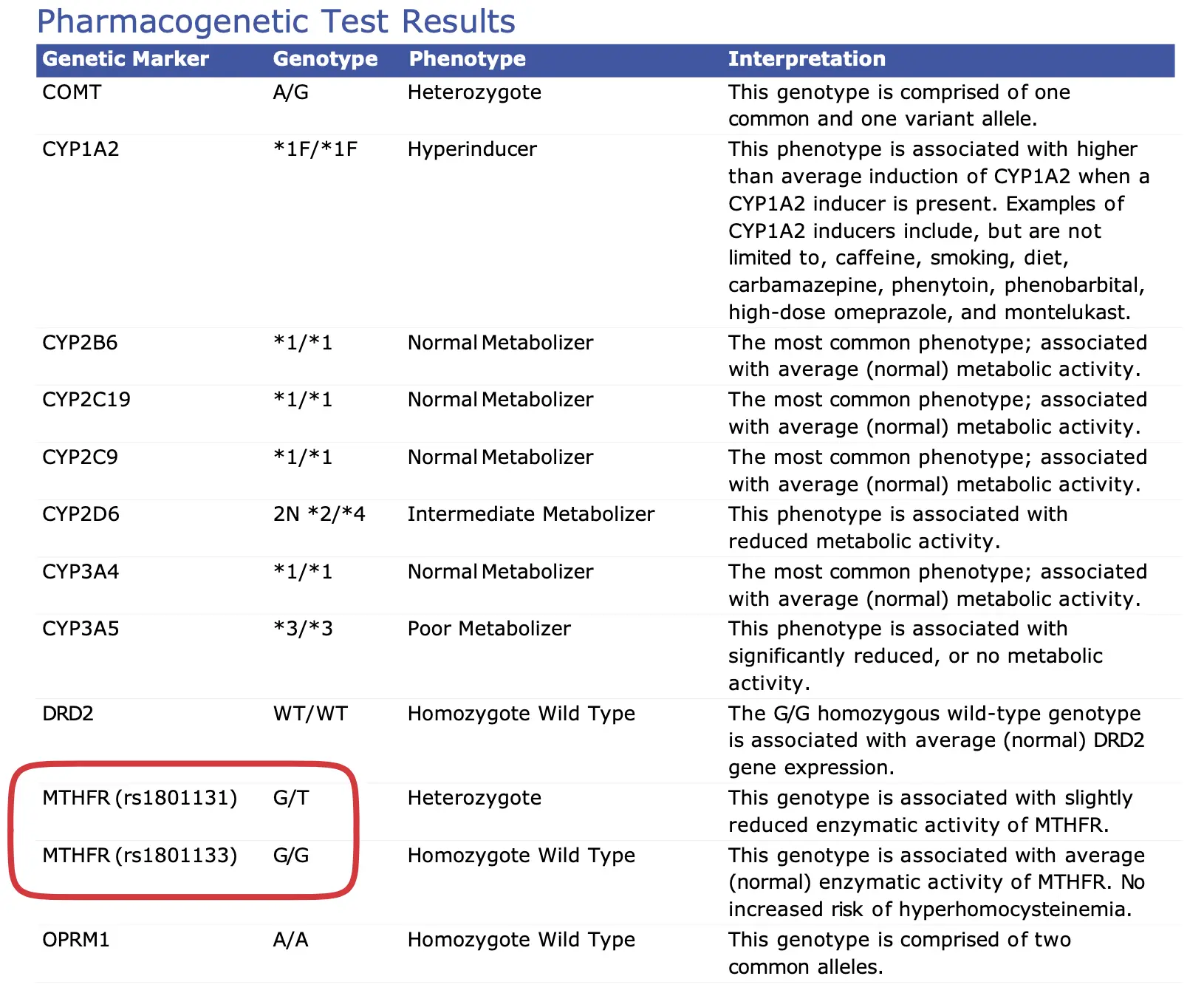 Get started with 3 easy steps
How it works
01
Click the get started button
Request your ClarityX® test and complete the checkout process.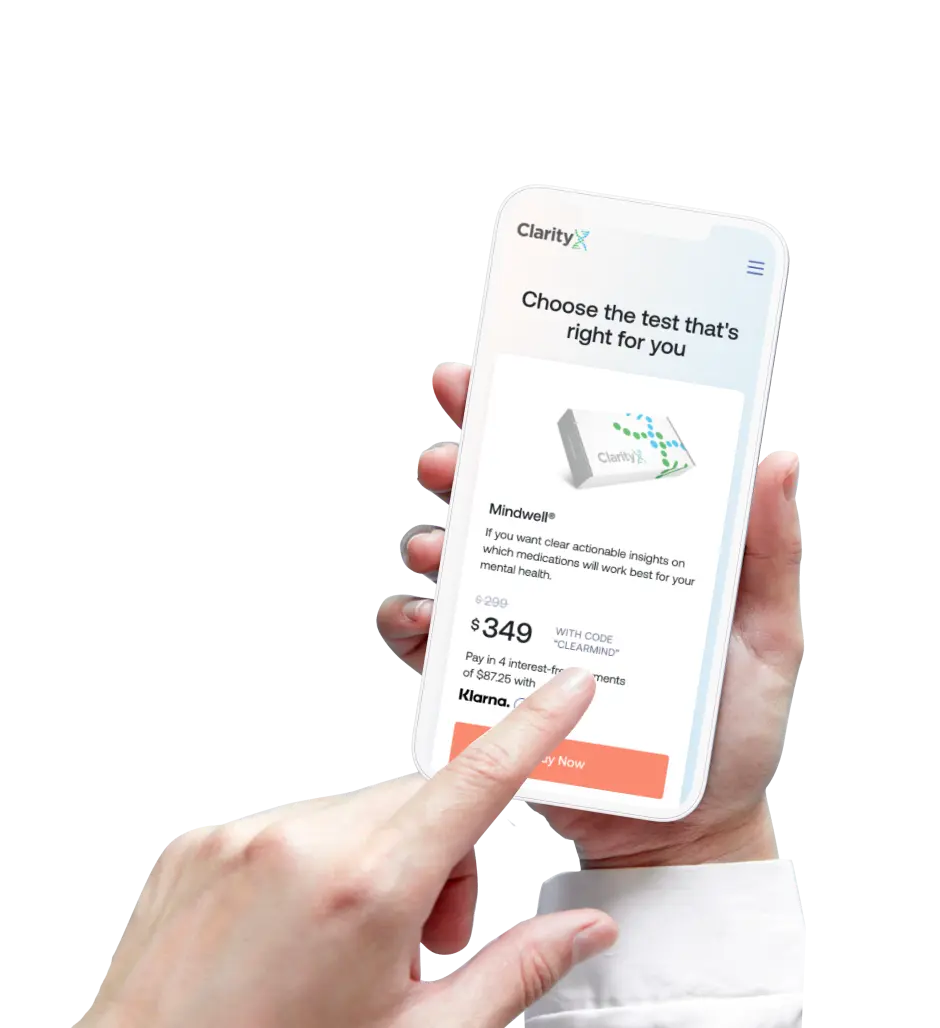 02
Receive & activate
Activate your kit online and perform a simple cheek swab. Return sample in the pre-paid envelope provided.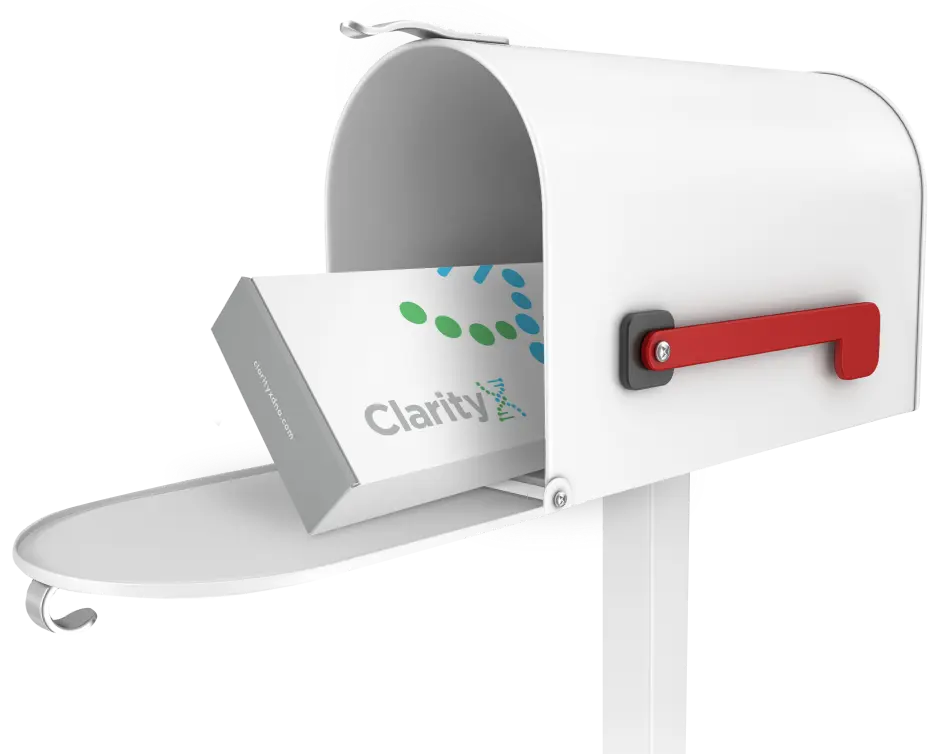 03
View your results
You will receive your personalized report in your ClarityX® patient portal. Share your results with your doctor and get back to being you again.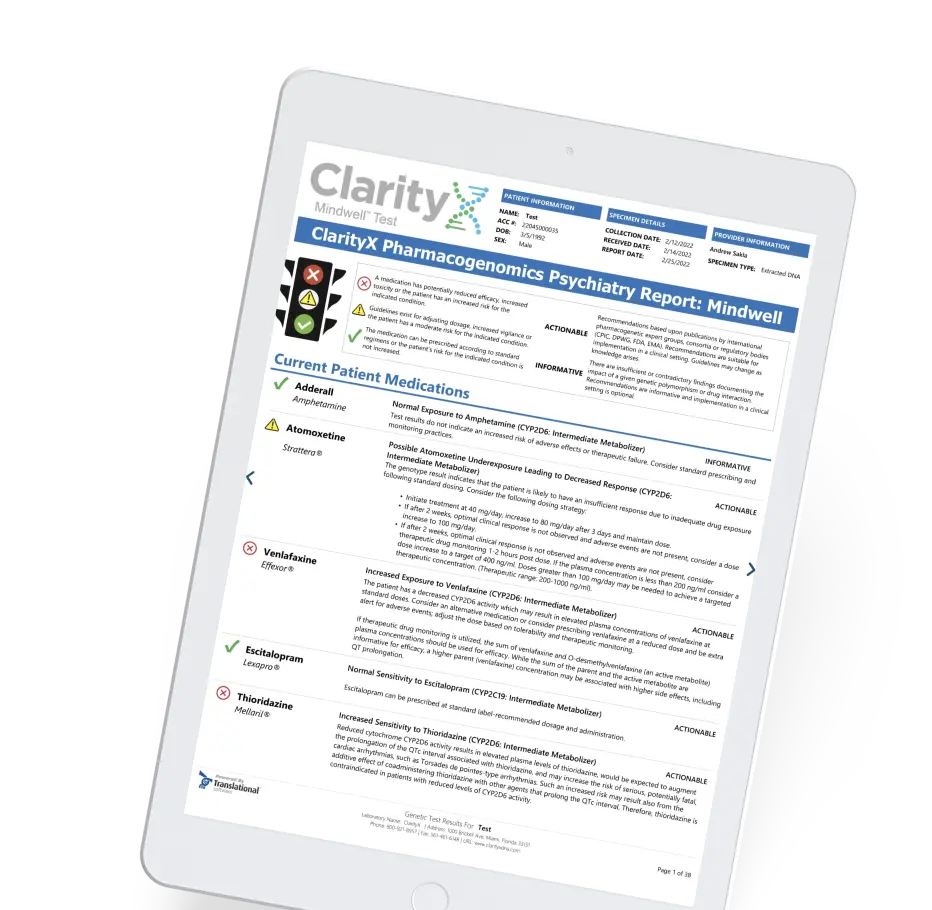 A Clear Path To A Clear Mind
Which test is right for you?
Mindwell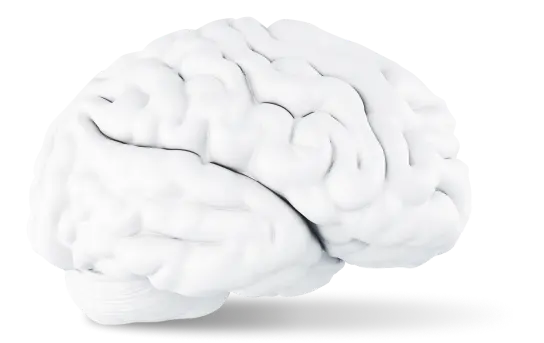 The ClarityX® Mindwell Test will give you answers on how you will respond to mental health medications, including clear insights on which medications may work best for your condition based on your unique genetic profile.
Therapeutic areas
Clinical depression

Anxiety disorder

Bipolar disorder

ADHD / ADD

OCD
PTSD

Psychotic disorder

Schizophrenia

Opioid withdrawal

Sleep disorder
Max Rx®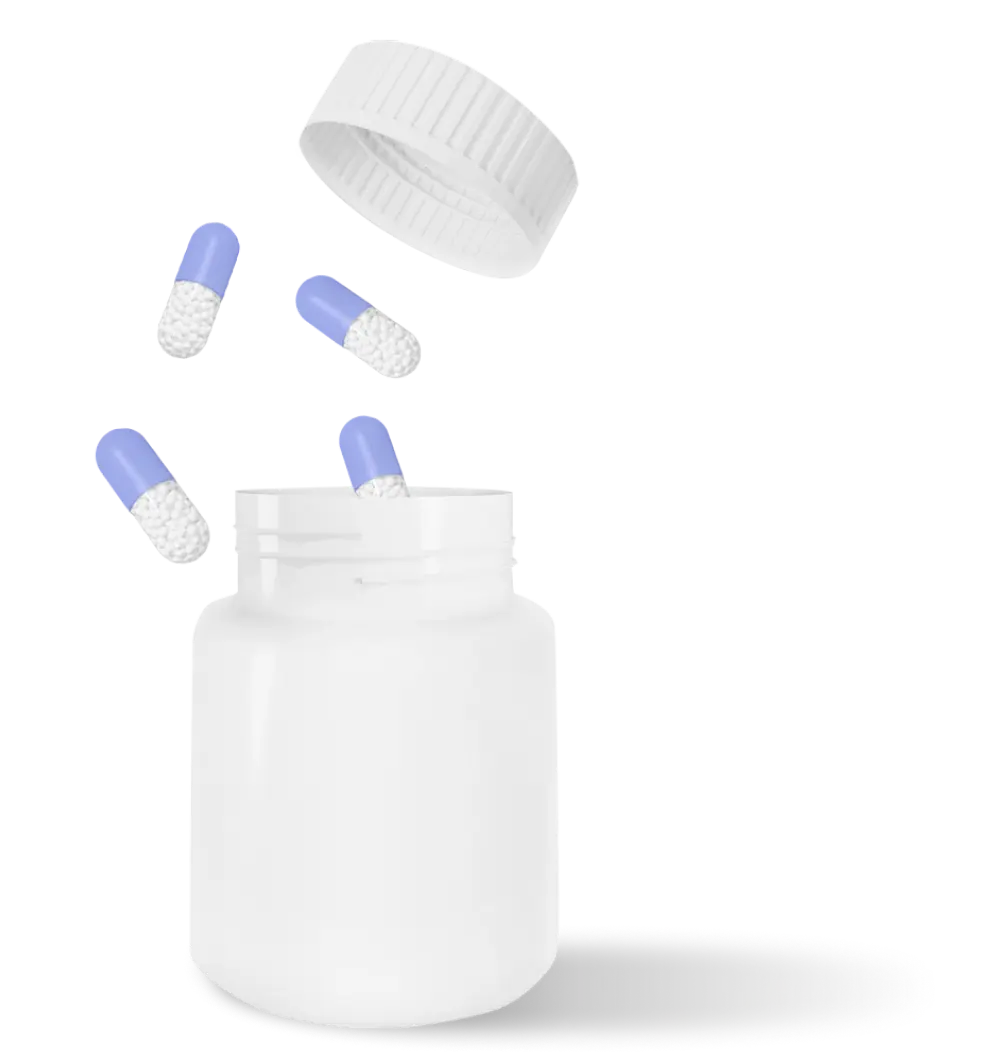 The ClarityX® Max Rx® Test goes beyond mental health by giving you a complete picture on which medications may work best for you. This includes medications that may require a dosage adjustment as well as which drugs may put you at risk for unwanted side effects based on your genetic profile.
Including 21 additional therapeutic areas
Cardiovascular

Diabetes

Gastrointestinal

Gynecology

Rheumatology
Seizure disorder

Urologicals

COPD

Antifungals
Real People. Real Journey's
What our community has to say

Emma, North Dakota
"My daughter was diagnosed with ADHD and put on a popular ADHD medication… that wasn't a good fit. I'm trying ClarityX to help find her the right medication."

Dr. Josef Newman MD, Florida
"I have been using ClarityX over 2 years as a tool to help evaluate prescription medications. The test gives both providers and patients clear and actionable insights into the sustainability of each medication, and gives new meaning to the term "empiric therapy". ClarityX eliminates the burden of trial and error, allowing patients to receive optimal therapy faster."

Dermonte, Ohio
"I wanted to find out which SSRI would work best for my condition. I've tried many antidepressants that just didn't help. The ClarityX Mindwell Test showed me exactly which medications are right for me."

Barbara, Florida
"My son was diagnosed with ADHD. I wanted to make sure we chose the right ADHD medication before starting treatment. ClarityX helped us avoid the pain of trying several different medications"

Harley, Texas
"ClarityX Max RX helped get me the most comprehensive analysis regarding which prescriptions would work best for me due to my chronic pain. Most medications do not have any effect on me."
Frequently Asked Questions
Still have questions?
Here are some questions we usually get about ClarityX®. If you would like yours answered, please contact us.
View More FAQ's
The ClarityX® test covers 265+ of the most commonly prescribed FDA approved medications. Including the following therapeutic areas: See complete medication directory
Psychiatry, Cardiology, Pain Management, Endocrinology, Gastroenterology, Gynecology, Immunology, Infectious Disease, Neurology, Oncology, Ophthalmology, Otolaryngology, Pulmonology, Rheumatology, Urology, & Steroids.
No. ClarityX® works with a network of physicians licensed in all 50 states to review and authorize your ClarityX® test.
Once we have received your sample at the lab, it takes approximately 7-10 business days to complete the review and analysis.
One of our clinical pharmacists certified in pharmacogenomics will review the results with your doctor to ensure proper implementation of the findings in your report.
Yes. You should be able to use funds set aside in either a Flexible Spending Account (FSA) or Health Savings Account (HSA) to get reimbursed for the cost of your ClarityX® test.
Join the conversation
ClarityX® in Motion