Frequently Asked Questions
The ClarityX® test covers 265+ of the most commonly prescribed FDA approved medications. Including the following therapeutic areas: See complete medication directory
Psychiatry, Cardiology, Pain Management, Endocrinology, Gastroenterology, Gynecology, Immunology, Infectious Disease, Neurology, Oncology, Ophthalmology, Otolaryngology, Pulmonology, Rheumatology, Urology, & Steroids.
The ClarityX® Medication Response test helps you understand how your DNA can impact your medications. The ClarityX® test helps your doctor prescribe a more genetically optimal medication to avoid medications that may cause side effects or be less likely to work.
Click the get started button on the home page or by calling in and speaking with one of our qualified specialists.
No. ClarityX® works with a network of physicians licensed in all 50 states to review and authorize your ClarityX® test.
Once we have received your sample at the lab, it takes approximately 7-10 business days to complete the review and analysis.
Unlike a hereditary DNA test, we only analyze very specific genes related to drug metabolism. We do not keep, store or use your genetic data in any way, other than necessary for processing your report. We destroy your sample once it is processed.
ClarityX® does not accept health insurance. Insurance can be very tricky, some insurance companies may cover pharmacogenetic testing only if you have a specific diagnosis and are taking certain prescription medications. Most insurances may deny claims and patients may be stuck with high out-of-pocket costs. ClarityX® strives to make testing accessible to everyone.
One of our clinical pharmacists certified in pharmacogenomics will review the results with your doctor to ensure proper implementation of the findings in your report.
Yes. You should be able to use funds set aside in either a Flexible Spending Account (FSA) or Health Savings Account (HSA) to get reimbursed for the cost of your ClarityX® test.
Yes! You can purchase a ClarityX® test for someone else or your child. When they receive the ClarityX® test they will activate their test kit online on our website. If the individual taking the test is a minor, a parent or guardian is required to give consent before completing the activation process.
Once your test kit has shipped back to us, you can log into your patient portal on our website and track the status of your sample.
We believe that everyone should take the ClarityX® test before taking any kind of prescription medications. In the event you are prescribed medication in the future you can share the results with your treating provider to ensure you are prescribed the right medication at the optimal dose based on your DNA.
Get started with 3 easy steps
How it works
01
Click the get started button
Request your ClarityX® test and complete the checkout process.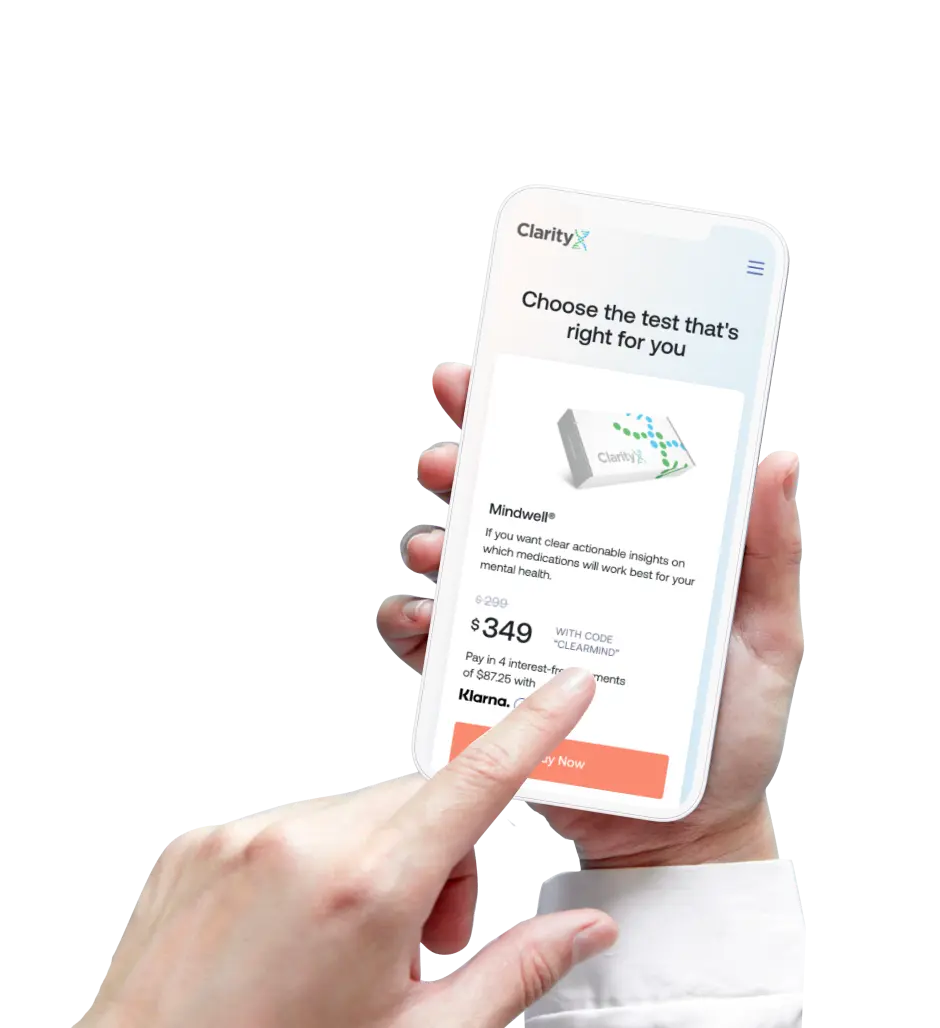 02
Receive & activate
Activate your kit online and perform a simple cheek swab. Return sample in the pre-paid envelope provided.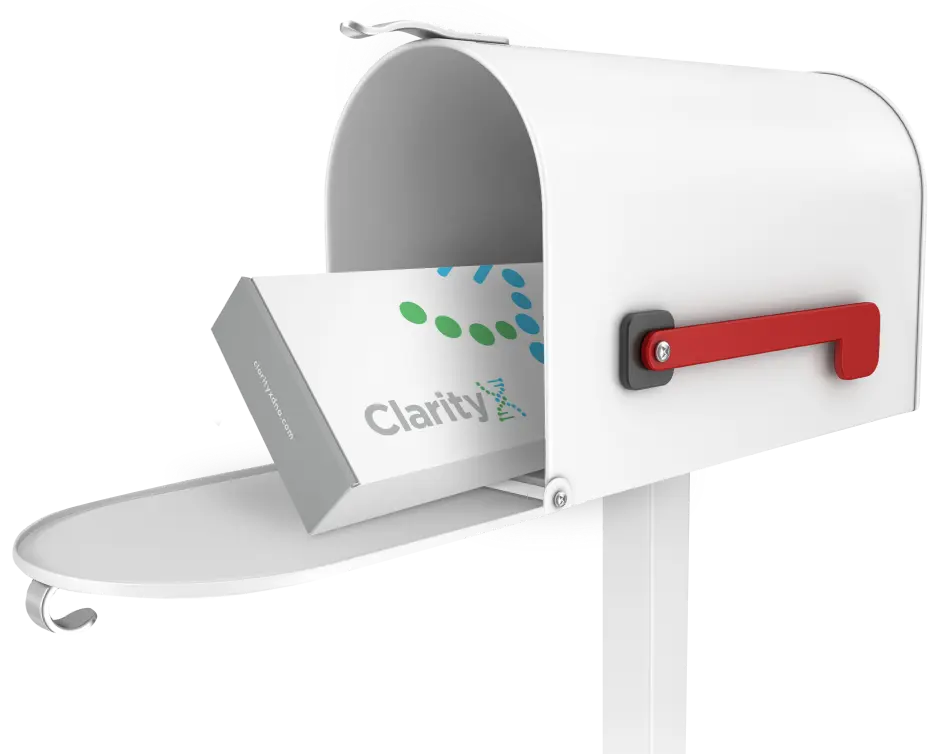 03
View your results
You will receive your personalized report in your ClarityX® patient portal. Share your results with your doctor and get back to being you again.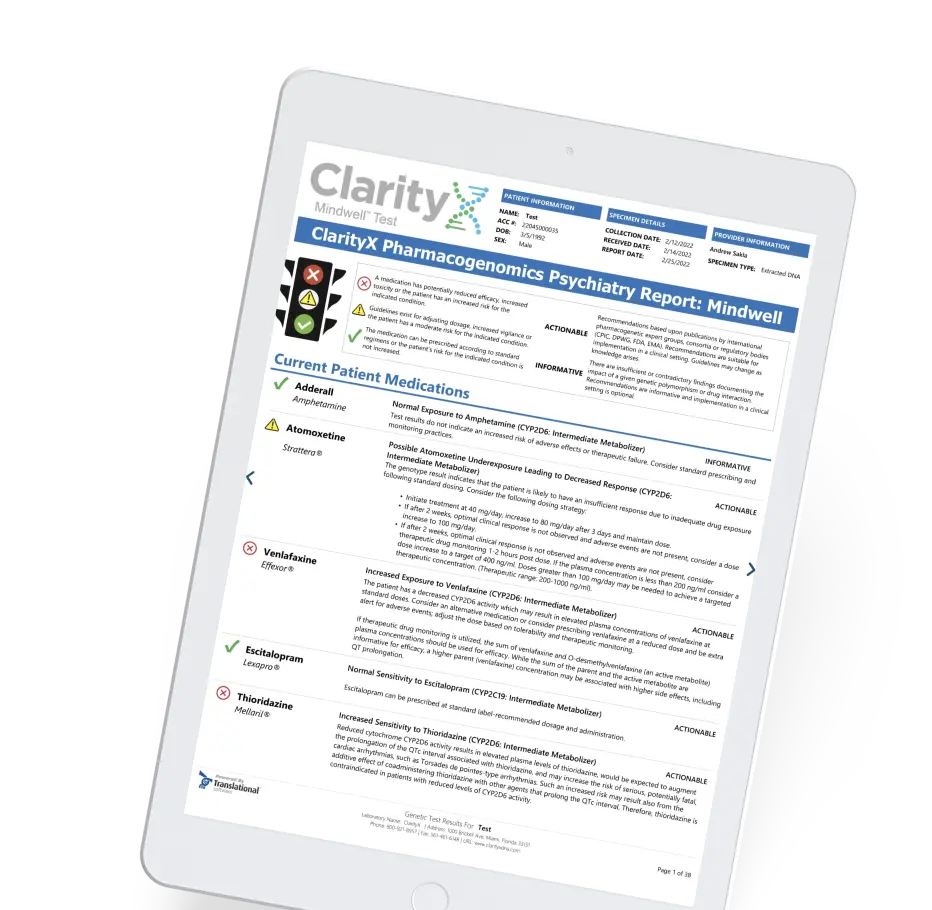 See how genetic testing for mental health medications work